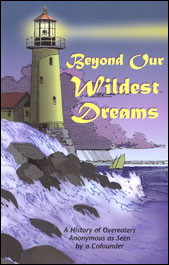 I just got an email from a friend reporting that OA's co-founder, Rozanne S, recently passed away in her sleep at the age of 84. The celebration of OA's 54th birthday is coming up on Saturday, January 18. What a fitting time to celebrate her life and the impact her dedication to the program have had on each of us.
To learn more about Rozanne and the beginnings of OA, read "Beyond our Wildest Dreams" available on the OA website at oa.org.
Remember "Rozanne's Prayer"
I PUT MY HAND IN YOURS, and together we do what we could never do alone! No longer is there a sense of hopelessness, no longer must we each depend upon our own unsteady willpower. We are all together now, reaching out our hands for power and strength greater than ours, and as we join hands, we find love and understanding beyond our wildest dreams.
We don't have to do this alone; together we get better.
Bev J
Grand Junction OA
---
Leave Your Rememberance
If you have a special memory or story to share about Rozanne or her impact on your recovery, feel free to share it below…